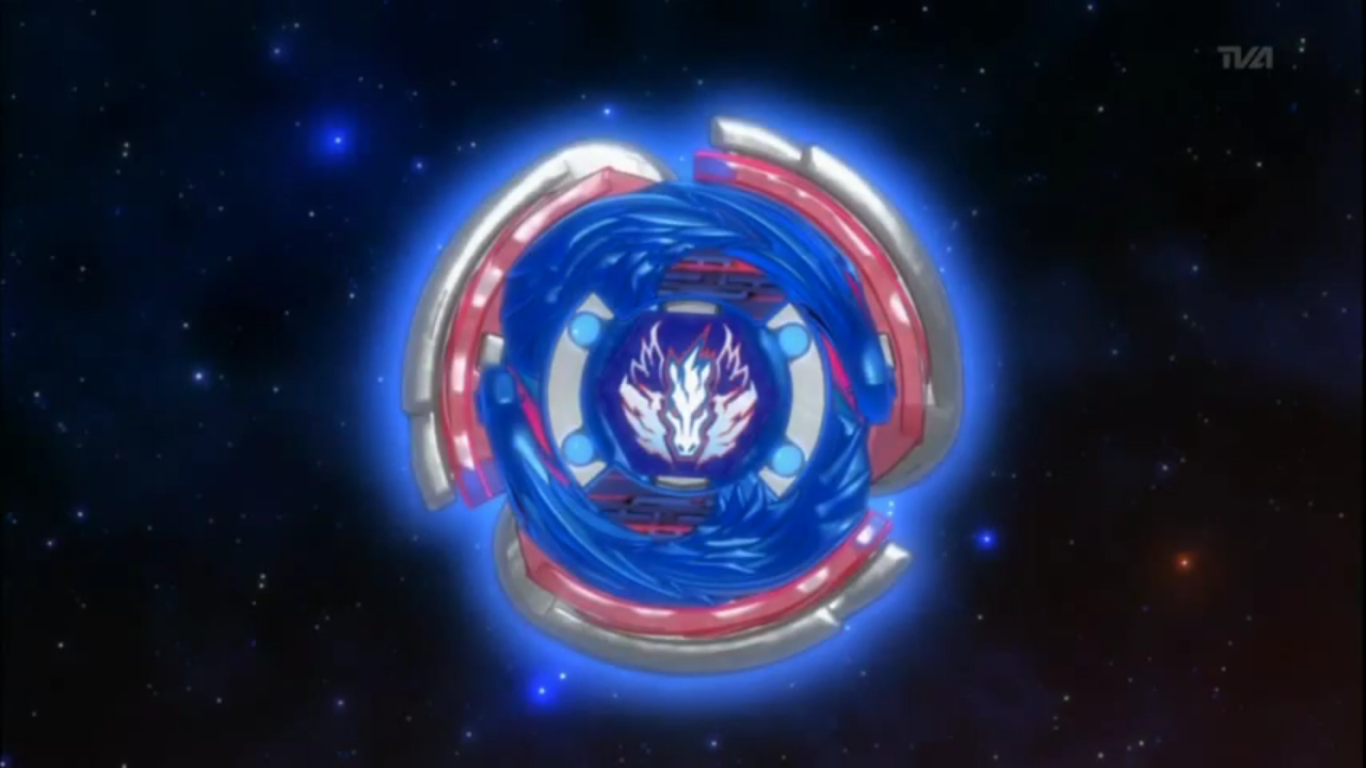 Big Bang Pegasis F:D
is an Attack-Type Beyblade that appears in the anime and manga series, Beyblade: Metal Fury. It is the evolution of Galaxy Pegasus W105R2F and is owned by Gingka Hagane. It was released on March 26, 2011 in Japan and is the first Beyblade of the Metal Fury toyline. Big Bang Pegasis is the latest evolution of Galaxy Pegasus. After Galaxy Pegasus was hit by a piece of the Star Fragment, Big Bang Pegasis was concieved. Boasting even more incredible power than ever before along with it's new 4D Performance Tip, F:D, which has a gimmick of changing it's Performance Tip from SF to RF. Also with it's new Big Bang 4D Fusion Wheel, now made up for three parts rather than one and utilizing a maximum of four different Modes.
- Face: Pegasis
This Face Bolt depicts Pegasis, one of the 88 constellations in the sky. It's said to be a flying horse that came from the heavens.
- Clear Wheel: Pegasis |||
The Clear Wheel is currently the heaviest Clear Wheel of the Pegasis generation because of the iron powder. It has a very dark blue tone to it, making it look very good alongside the design. Pegasis has nice design but is outclassed by numerous Clear Wheels like Phoenix and Unicorno.
- Metal Wheel: Big Bang
Big Bang was one of the first 4D Metal Wheels released. It is made up of 3 parts, the PC Frame, the Metal Frame, and the Metal Core. The Metal Wheel is 50 milimeters wide like the Hell Wheel. It has 4 different Modes, "Smash Attack Mode", "Omindirectional Attack Mode", "Barrage Mode", and "Upper Attack Mode". It is a good attack Metal Wheel, but is outclassed by wheels like Lightning or Blitz.
- 4D Bottom: Final Drive
Final Drive (F:D) is one of the very first 4D Performance Tips to be released. What is interesting about it, is that just like all 4D Performance Tips, it features a mode-changing gimmick. In battle, it will start act like SF but when spin rotation starts to decrease, the SF will eject at the bottom and will perform like RF with fast and aggressive movement.
When launched, centrifugal force causes the SF Tip to eject from the F:D. When the Bey starts to lose rotation, a mechanism will automatically "click" SF into F:D to switch from the plastic SF Tip to the rubber RF Tip.
As with the rest of Big Bang Pegasis, F:D was a highly anticipated part to the metagame. Despite this, through testing, F:D did not feature much use in Attack. Although it's mode-changing mechanism was praised by the Beyblade community, F:D is only decent at best, with RF, R2F, and LRF serving better. Contrary to this, F:D has found uses in Anti-Meta customizations to success.
Design-wise, F:D resembles a very, bulky version of RF but with a small blue SF Tip at it's bottom.
- Overall:
Big Bang Pegasis is a beyblade that has some qualities that are better than others, but is all parts are outclassed. It is up to the blader to decide to get it.
Last edited by Gokuatruehero on Wed Dec 21, 2011 4:42 pm; edited 1 time in total
___________________________________

RPG:
Hans Antonio
Click my dragons and eggs! http://dragcave.net/user/GalaxyDranzer
Administrator




Reputation

: 1



Final Drive is wrong. Pls don't post beys that you don't have (if you don't have one). It will never change into 85 height.
Moderator




Reputation

: 0



Fixed. So, your thoughts about this bey?
___________________________________

RPG:
Hans Antonio
Click my dragons and eggs! http://dragcave.net/user/GalaxyDranzer
Administrator




Reputation

: 1



Nah. It's a bad bey as they say.
Doesn't have a good attack power from my experiences...

(Um, is this gravedigg?)

___________________________________
"Me and HER, sitting on a tree, K-I-S-S-I-N-G."

.Dreamer, Daydreamer, ForeverDreamer!.

Personal Youtube channel: https://www.youtube.com/user/jmcaibal10
Twitter: http://twitter.com/#!/MrAwesomEpic
Tumblr: http://jmcaibal14.tumblr.com/ http://miggsthemiggz.tumblr.com/ http://jmcisinspiredbyyou.tumblr.com/

My Beyblade YT channel: https://www.youtube.com/dragonoid660

I'mma quit Beyblade soon...

~Mr.AwesomEpic/SomedayMiggz
RPG Moderator




Reputation

: -1




---
Permissions in this forum:
You
cannot
reply to topics in this forum